To get to the root of this post: Android app crashes on local sync attempt - #14 by golden-oak
Phone: App version 1.7-7, Android 10
Server Ubuntu 22.04 fully updated, Everdo 1.8.5 (PRO)
Sync over LAN
My app on the phone crashes which is a bummer. I can't use Everdo when I am out of office. It will help a lot if this gets resolved quickly.
When I install the android app on my phone fresh install – all is well.
When I export from the PC as json file and import it into the app I get this error (see screenshot):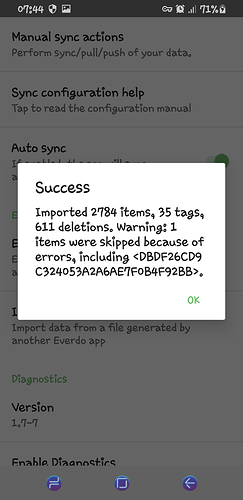 Here the text:
Success
Imported 27734 items, 35 tags,
611 deletions, Warnings 1
items were skipped because of
errors, including ,
Here 2 questions: why are there 611 deletions imported if the Trash is practically empty?
How can I edit item on the desktop setup?
After import the app opens fine and no crash.
After configuring the LAN sync app keeps on crashing on very trial to sync.
What can I do to repair this.?